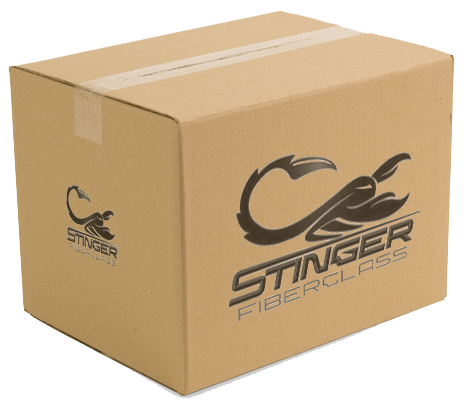 YES! WE ARE OPEN, MANUFACTURING AND SHIPPING!
Now is the perfect time to work on your car projects. Stinger Fiberglass has remained open despite the obstacles we face daily and is ready to help! Our fiberglass industry is experiencing material shortages, increased cost of materials, manpower shortages and more. But every day we work to make you; our customer, a better product. Our manufacturing plant has remained open with your parts being made daily. We are working closely with our shipping companies to get your parts to you as quickly as possible. This means your project doesn't stop and will be ready when you are.
Shop online at : www.AARQUALITYFIBERGLASS.COM or https://www.AMERICANSPORTSCAR.COM
NOTICE TO KANSAS CUSTOMERS:
A state mandated sales tax is required on all sales from Kansas. This means that we are required to charge you 7% sales tax on your purchase. This may not appear in your shopping cart, but will be invoiced after we receive your order if not initially charged. We are busy getting our website's ready for this change, but until then; look for a email from us after you place your order.
We appreciate you business!!
STINGER FIBERGLASS – ALWAYS DOING THE RIGHT THING FOR OUR CUSTOMERS AND BUSINESS!
Small Business Strong!
---
Welcome to the Stinger Fiberglass/American Sports Car website, home of the most extensive catalog and online selection of aftermarket, fiberglass parts for Chevy, Dodge, Ford, Oldsmobile, Plymouth, Pontiac and Trucks. We carry an vast line of hoods, bumpers, fenders, scoops and much more to help get your project off the ground.
Whether you are restoring a classic muscle car, racing, or customizing your new ride, We ARE the place to shop for your Custom Fiberglass Aftermarket Parts. We offer quality light weight fiberglass that is made by hand right here in the USA!
So remember when it comes to rebuilding or maintaining your car or truck, we are here to help!
---
ALL OUR PARTS ARE MADE IN THE USA!
Honestly, you can't ask for more for than a quality, hand built, American made part.
All of our parts are proudly manufactured in the USA! WE BUILD EVERYTHING WE SELL AND SELL EVERYTHING WE BUILD! HERE, MADE IN AMERICA means something.